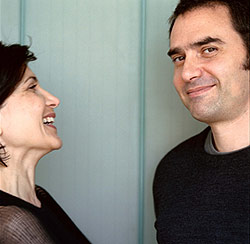 Foreign Office Architects
/ FOA
Architect
London,United Kingdom
+Farshid Moussavi
+Alejandro Zaera Polo
55 Curtain Road EC2A 3PT London UK
T +44(0)20.7033.9800
website:
www.f-o-a.net
No one sees the world quite like Foreign Office Architects. Their architecture lifts flaps of skin from the ground, and mutates them in contorted twists, like plastic surgery for the earth's surface. Buildings become landscape, and landscape buildings, man and nature in one indivisible embrace. Their first major project, the Yokohama International Port Terminal in Japan, stretches the city into the sea, its beach of boardwalks weaving like braids through wooden "dunes", ducking and diving, inside and out, as you promenade to your ship. When the terminal opened in 2002, it looked like nothing else, guaranteeing star billing for Foreign Office in the international media and yanking them in their late thirties — an unusually tender age in architecture — into the premier league.
Spanish Pavilion, Expo 2005
2005 Nagoya Aichi,Japan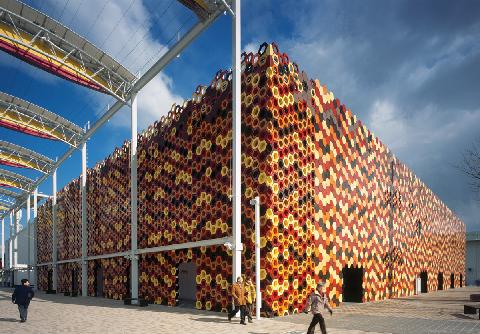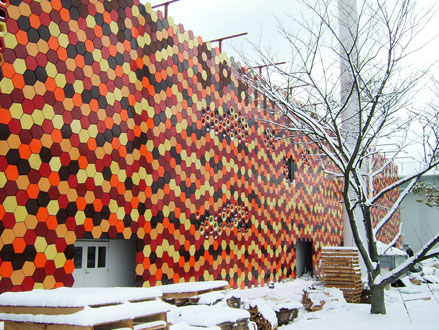 Rendering for the BBC's Music Theatre, London
2004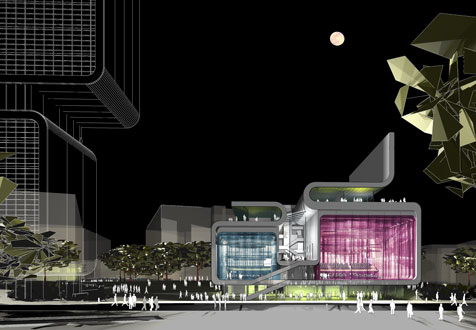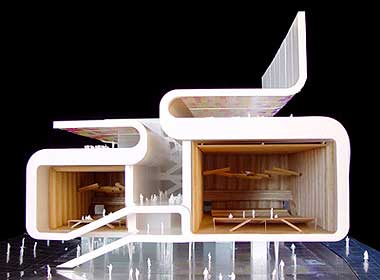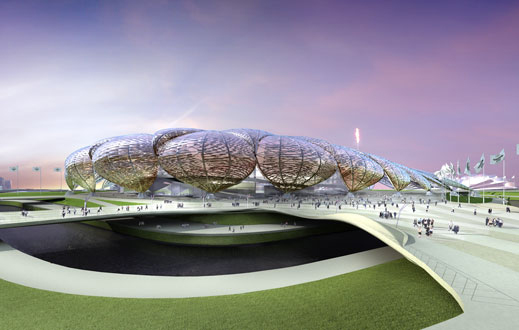 Exterior rendering - London 2012 Olympic Stadium
FOA's proposed designs as part of the architectural team behind London's 2012 Olympic bid are an apt illustration. The Olympics is the ultimate globalised brand which, every four years, descends on one particular lucky – or unlucky – place. Usually icons and monuments are built, or an Atlanta Olympics corporate circus passes through town. FOA's Olympics, though, will be "an antidote to the usual sanitised, branded theme park that could-be-anywhere-Olympics," stresses Zaera Polo, something that "distills the character, crystallises the ambience" of the site, east London's rundown Lea Valley. "We don't want to clean it up, cover it in concrete, and put a few white elephants on a platform," says Zaera Polo. "We want to grow the Olympics from the bottom up". And, adds Moussavi, "capture some of the "the gruff, east London street culture of a hundred languages, the unexpected, the quirky, the weird" that makes London's hybridised buzz the envy of every metropolitan rival. To most of its inhabitants, Lea Valley is a post-industrial junk shop of viaducts, scrapyards and warehouses, cobbled together with rampant buddleia. But to Alejandro Zaera Polo and Farshid Moussavi, it is paradise, an exciting man-machine, eco-techno organism from which to conjure up astonishing architectural shapes.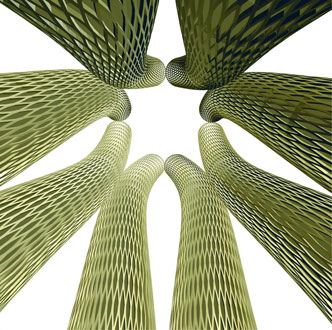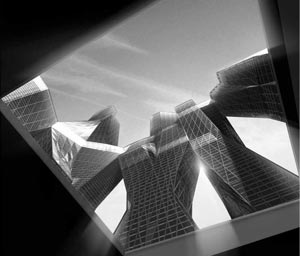 ▲ by another29 | 2007-07-01 20:39 | □Architect