Maison Martin Margiela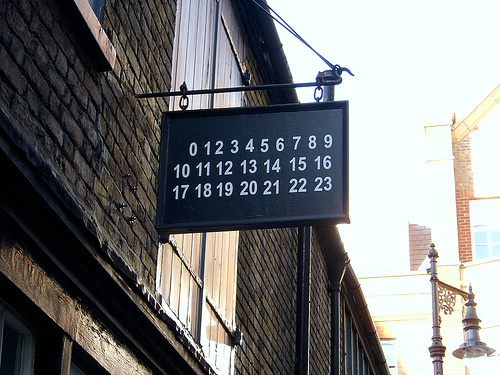 Maison Martin Margiela
Clothing Store
designer:Martin Margiela
London Flagship Store:
1-9 Bruton Place Westminster
W1J6NE London UK
website:
www.maisonmartinmargiela.com
Martin Margiela
is a Belgian fashion designer. He studied at Antwerp's Royal Academy of Fine Arts along with the legendary avantgarde fashion collective the Antwerp Six. Martin Margiela was only temporarily associated with the group before he retired and was replaced by Martina Yee. Many still consider him to be the 7th member of the collective.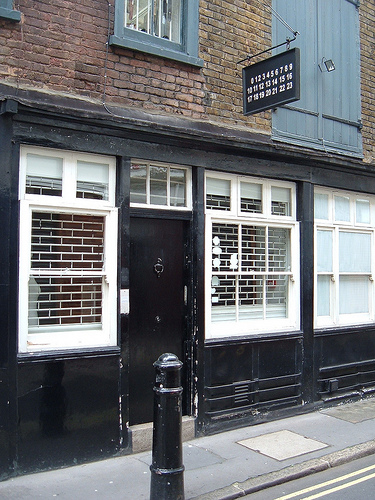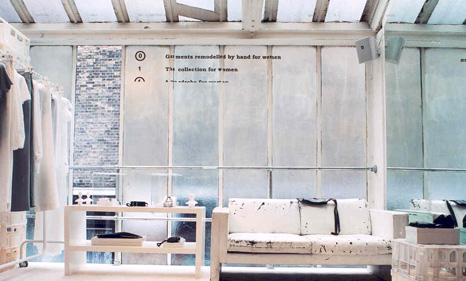 During the 1980s, the Japanese avantgardists, with Rei Kawakubo (Comme des Garcons), had turned the fashion scene upside-down with their eccentric and ground-breaking designs. Martin Margiela and the Antwerp Six would carry on the work, revolting against the luxurious fashion world with garments of oversized proportions such as long arms, and with linings, seams and hems on the outside. The concept of deconstruction, also embraced by the aforementioned Rei Kawakubo, is important for the understanding of Martin Margiela's fashion statement. Mr Margiela famously redesigns by hand objects such as old wigs, canvases and silk scarves into couture garments.
Throughout his career, Martin Margiela has maintained an extremely low profile. He has never had his picture taken and remains backstage after his shows. All media contact is dealt with via fax. Maison Martin Margiela's ultradiscreet trademark consists of a piece of cloth with the numbers 0-23 (see table below). The badge is attached to the inside with its four little white pick stitches, exposed to the outside on unlined garments.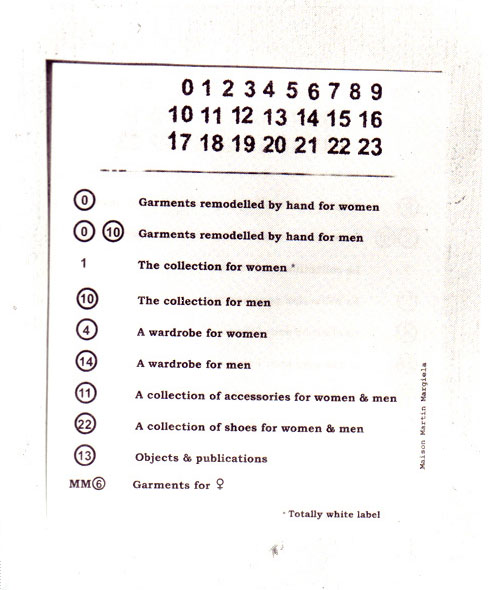 0. Garments redesigned by hand for women
1. Women's collection
4. Garderobe for women
8. Sunglasses
10. Men's collection
14. Garderobe for men
0 + 10. Garments redesigned by hand for men
11. Accessories for men and women
13. Other objects and magazines
22. Shoes for men and women
The Maison Martin Margiela flagship store is located in 1-9 Bruton place, London. Margiela has a store in the West Village in New York City and also sells at Barneys New York, Scoop NYC, Bergdorf Goodman and in Laguna Beach, California at Anastasia Boutique. The women's collection is also available online at www.anastasiausa.net. In his stores, salespeople wear white lab coats.
by another29 | 2007-06-10 02:14 | ■Life