Maxim Velcovsky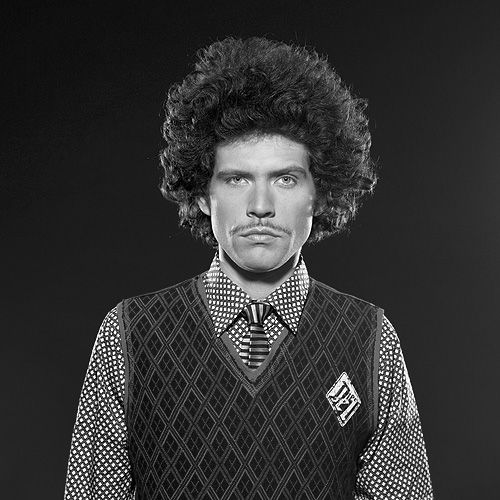 Maxim Velcovsky
[Qubus Design]
Designer
Czech
Qubus Design
studio+shop
website:
www.qubus.cz
Rámová 3 110 00 Prague 1 Czech Republic
shop opening hours:
monday – friday 10:00am – 18:00pm
A young Czech artist with a European perspective
Maxim Velcovsky is one of the Czech Republic's leading young artists. Most of his work is in porcelain and involves 'reimagining' everyday objects; among his best known pieces are a vase in the shape of a Wellington boot and a porcelain version of a typical water-cooler paper cup. He is also known for a huge fibreglass crucifix, which stands in a Protestant church in Hradec Kralove. I spoke to Maxim Velcovksy at an exhibition of his at Prague's Galerie Kritiku, and began by asking him to explain the thinking behind his work.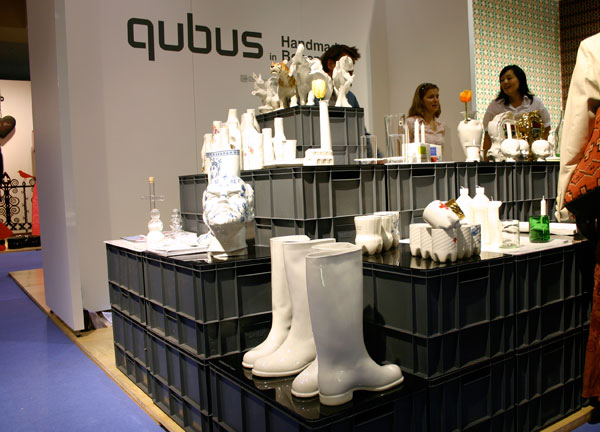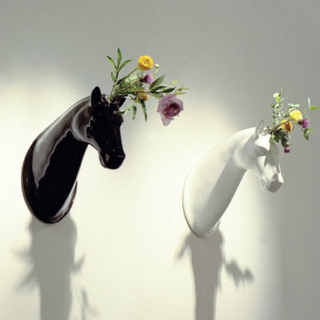 Cathedral of St.Bartholomew [April 2007]
Maxim Velcovsky has redesigned the interior of a church in Eastern Bohemia, using customised design classics, rugs and chandeliers. Working with designer Jakub Berdych under the Qubus Studio banner, the interior features Verner Panton chairs customised with a punched crucifix, Persian rugs and chandeliers of rough-cut crystal. "The latest creation of the Qubus Studio originated at the St. Bartholomew's Church in the village of Chodovice, Eastern Bohemia. On this location, Jakub Berdych and Maxim Velcovsky have succeeded in making design an integral part of religion.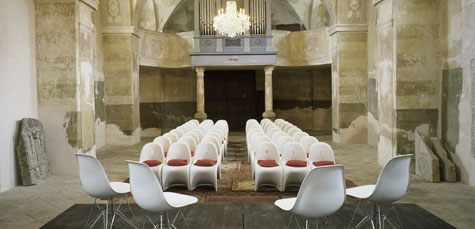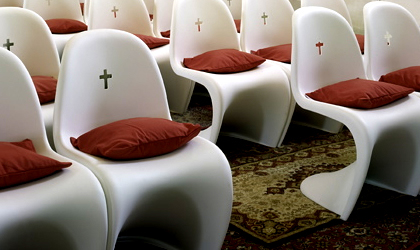 "Here at the St. Bartholomew's Church you will surely notice that both designers have once again shown their typical flair for working with the context. Through integration and unexpected combination of intelligent elements, they have added a new dimension to the Baroque interior. "The central nave has been stripped of dull repaints and left totally exposed so that visitors can watch the course of history on fragments and details on the wall."Illuminated by chandeliers adorned with pressed and roughly cut crystal, the bare space is dominated by an "army" of legendary chairs designed by Verner Panton with one crucial detail added – a Christian cross carved through the back of the chair.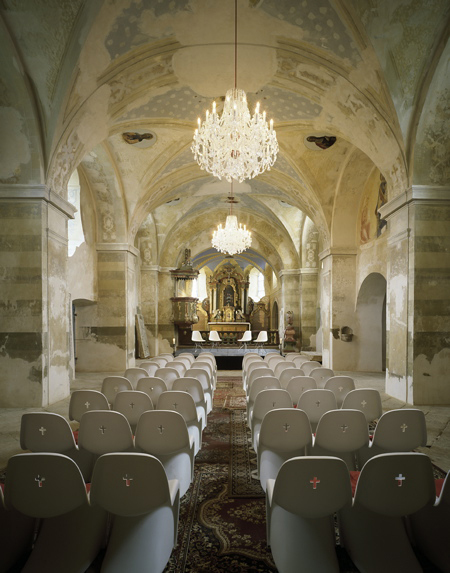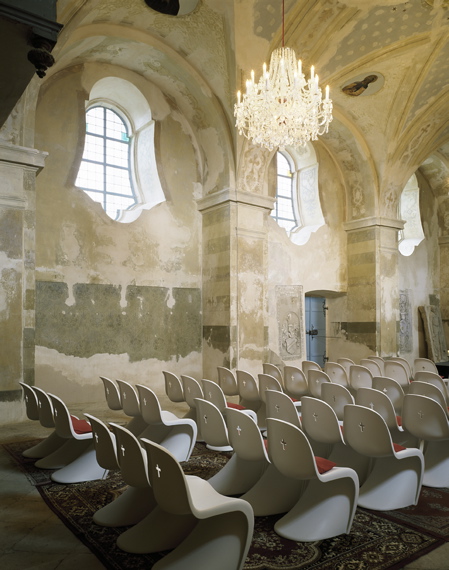 "Although Berdych and Velcovský had known that as a result of this work they would lose the warranty of several years provided by the legendary manufacturer of the Vitra furniture, they were not afraid to experiment."The redesign and religiousness of this design icon is multiplied by its installation on dozens of Persian carpets, which are so typical for Muslim shrines. This space is an eclectic cocktail and a place to ponder, moving us towards cultural dialogue."
by another29 | 2008-08-03 05:28 | □Product