Memorial To The Murdered Jews of Europe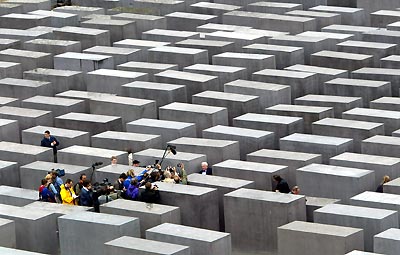 Memorial To The Murdered Jews of Europe
Architecture
[Holocaust memorial]
1998-2005
Berlin, Germany
Architect:
peter Eisenman
Stresemannstraße 90 D-10963 Berlin
Informatin Center for visitor
Cora-Berliner-Straße 1 D-10117 Berlin
website:
www.holocaust-mahnmal.de
This memorial, which opened on May 10 2005, is dedicated to the Jewish victims of the National Socialist reign of terror. Its location in the heart of Berlin's newly created parliament and government district signifies a declaration of historical responsibility, underlined by the memorial's open form, which allows for personalised remembrance, commemoration and mourning.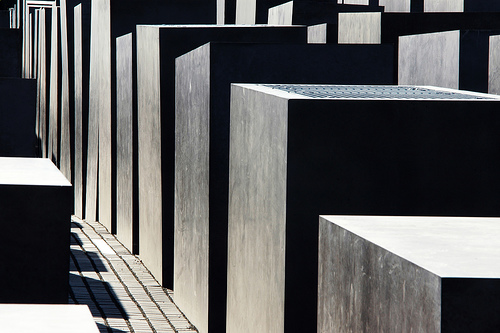 The Memorial, designed by New York architect Peter Eisenman
is created by 2,711 gunmetal grey reinforced concrete stelae, each uniquely positioned on a uniform grid to form a wave like progression across undulating topography which drops to as much as 2.4m below surrounding street level in places. All of the stelae have an identical plan dimension of 2.38 x 0.95m, although they vary in height from 0 to 5m, progressing from the field's boundary to the central areas. Precision positioned to a narrow spacing of just 0.95m, the stelae create parallel and orthogonal footpaths. Visitors progress from the ground level edge forms into central places where looking up earns a mere glimpse of sky between the towering, concrete forms. An overwhelming sense of disorientation is increased by the askance tilt of each stele.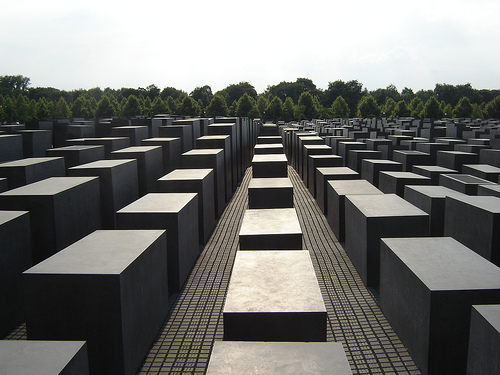 Collectively, these leaning monoliths creates an apparent lilting wave motion across the field from east to west and from north to south. The site, in an area next to the Berlin Wall known as the "dead zone" during the cold war, which had lain empty since World War II, was cleared of existing foundations, and its topography of craters and dips was modulated to create a series of terraces on which the founding level for large groups of stelen would be constant. Within this uneven landscape, each stele rests on two single reinforced concrete strips, cast in a steel shutter over a fill layer of sand. Precision was necessary, to ensure the unique top level for each unique foundation thus ensuring the exact individual stele tilt up to a maximum inclination of 2. Only a few stele remain upright. Each concrete stele is a five sided cast formed monolith, precast off site. Engineer Buro Happold was tasked with developing a construction process more comparable to manufacturing industries, to achieve the huge numbers required. Trials were conducted to research two piece, five piece and monolithic forms. The single piece casting in a high slump concrete mix defined by DIN 1045 created an aesthetically more permanent presence that met with the approval of both them.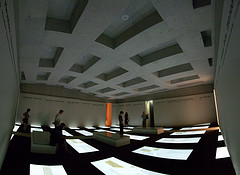 Information Center
To complement the Memorial, the architect has designed an underground Information Centre in the southeastern corner of the field of stelae, accessible via two flights of stairs or a lift. With its impressive architecture and original formal language, the centre consists of several rooms, some lit by natural light, and has a total exhibition area of around 800 square metres. It will provide the necessary background material on the victims commemorated here and on historic memorial sites.
A central function of the Information Centre is to back up the abstract form of remembrance inspired by the Memorial with concrete facts and information about the victims.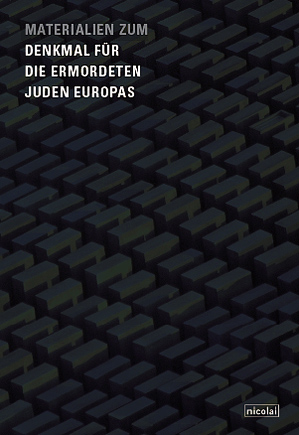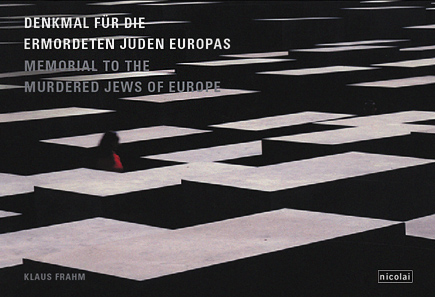 Memorial to the Murdered Jews of Europe – Photographies
Materials on the Memorial to the Murdered Jews of Europe
by another29 | 2008-06-09 04:12 | □Architecture