Zaha Hadid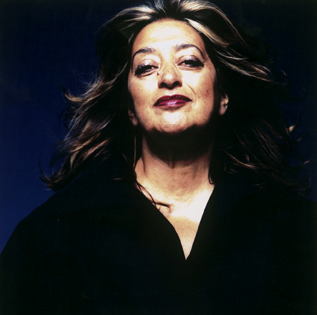 Zaha Hadid
Architect
born 1950 Baghdad,Iraq
Zaha Hadid Architects
Studio 9 10Bowling Green Lane London EC1R 0BQ UK
T +44(0)20.7253.5147
website:
www.zaha-hadid.com
She received a degree in mathematics from the American University of Beirut before moving to study at the Architectural Association School of Architecture in London. After graduating she worked with her former teacher, Dutch architect Rem Koolhaas at the Office for Metropolitan Architecture, becoming a partner in 1977. It was with Koolhaas that she met Peter Rice who gave her support and encouragement early on, at a time when her work seemed difficult to build. In 1980 she established her own London-based practice. During the 1980s she also taught at the Architectural Association.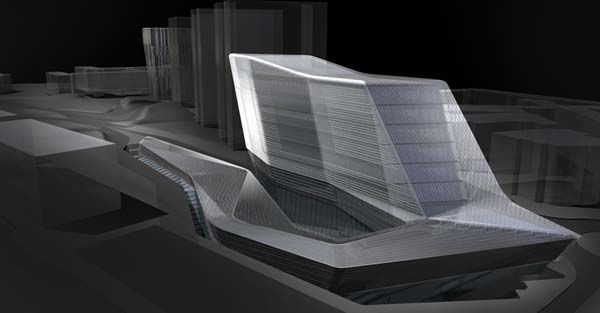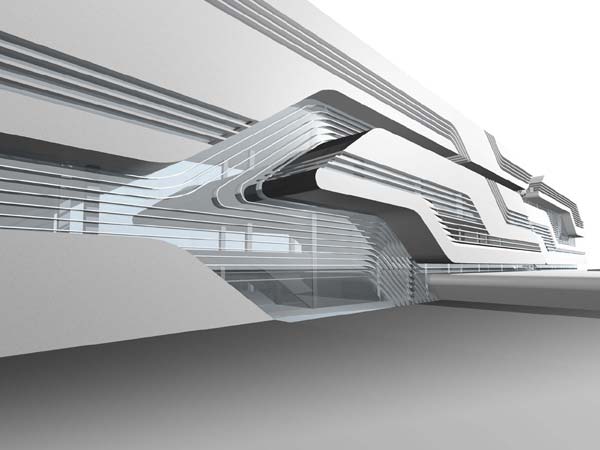 She has also taught at prestigious institutions around the world; she held the Kenzo Tange Chair at the Graduate School of Design, Harvard University, the Sullivan Chair at the University of Illinois School of Architecture in Chicago, guest professorships at the Hochschule für Bildende Künste in Hamburg, the Knolton School of Architecture, Ohio, the Masters Studio at Columbia University, New York and the Eero Saarinen Visiting Professor of Architectural Design at Yale University, New Haven, Connecticut. In addition, she was made Honorary Member of the American Academy of Arts and Letters and Fellow of the American Institute of Architects. She is currently Professor at the University of Applied Arts Vienna in Austria.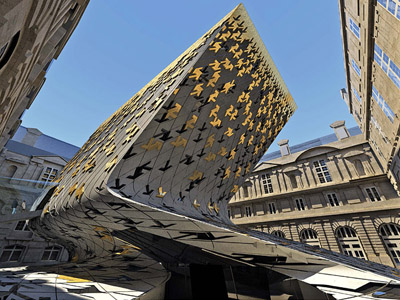 Proposed for the Louvre in Paris...
Her proposed building appeared somewhat like a cardboard milk container that has been squashed so that its bottom is severely bent back upon itself while its top is tentatively trying to right itself. Of course, this is no ordinary milk container but something fitting for a King, or Queen, of Persepolis, or Mesopotamia. From the mesmerizing renderings, it would appear to have a metallic facade punctuated by openings shaped like "arrows," sometimes singly, sometimes in joined pairs, sometimes dark and slightly recessed, sometimes protruding and golden. While I. M. Pei shocked the world with his glass pyramid entrance to the Louvre, his design was relatively free-standing and open. Hadid's design, on the other hand, is tightly surrounded by a Neo-classical courtyard from which her "emerging" construction appears ready to bound, and devour Paris and then the world with stylish licks.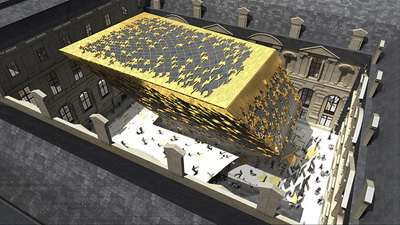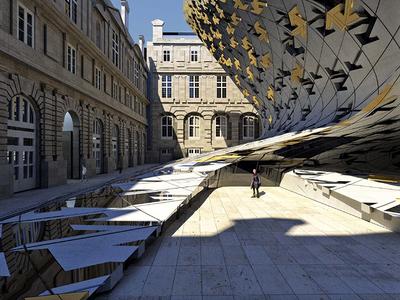 by another29 | 2006-12-03 02:41 | □Architect