FUTURE SYSTEM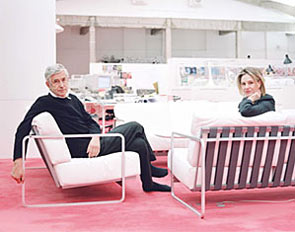 FUTURE SYSTEM
Architect
United Kingdom
+Jan Kaplicky [born.1937 Prague,Czechoslovakia]
+Amanda Levete [born.1955 Bridgend,UK]
The Warehouse 20 Victoria Gardens
London W11 3PE
website:
www.future-systems.com
Future Systems is an architectural and design practice producing highly original work. The designs are not only architecturally innovative and visually striking, but are also pieces of highly functional equipment, inspired by both nature and technologies transferred from other industries.The practice is recognised worldwide for consistently challenging traditional preconceptions of space and demonstrating environmental concern and efficiency, without the need to compromise on contemporary form. Research is a vital ingredient for the practice and a balance between experimental and real projects is kept in order to remain at the cutting-edge of the field.
House in Wales
1994 Wales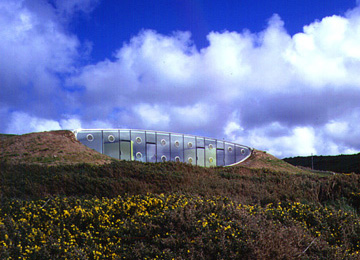 The simple plan is open and informal to reflect the lifestyle of the clients with the main seating area arranged around an open log fire. Two free standing, brightly coloured, prefabricated pods house the bathroom and kitchen services without touching the roof in order that the space is perceived as a totality. A continuous blockwork retaining wall and steel ring beam support the roof, eliminating the need for internal columns. The roof is a plywood aerofoil construction covered with turf. The curved plywood underbelly creates a softness to the interior, complimenting the organic form of the structure.
by another29 | 2003-11-02 06:10 | □Architect