Das Gelbe Haus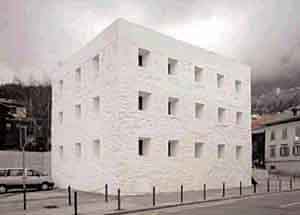 Das Gelbe Haus
Construction: 1995-1999
Postfach 220 CH-7017 Flims Dorf
T +41(0)81 936 74 14
website:
Das Gelbe Haus | Films
Architect:
Valerio Olgiati
/Switzerland
In 1995, the father of Swiss architect Valerio Olgiati left a portion of his cultural assets to the community of Flims. This legacy was provided under the condition that a certain Yellow House -an empty shell of no historical significance- was to be preserved and refurbished according to his taste, and, above all, ''to be painted white from top to bottom.'' These conditions were carried out by his son in a most radical fashion: the younger Olgiati altogether redesigned the classicist-inspired Yellow House at Flims so that today it stands out at the very center of the community as an erratic white cube, debunking romanticized notions about quaint alpine villages. For Olgiati's remodeling of the house the layers of the old unworked stone walls were laid bare, and the rough stone was reworked with the hammer to give the walls a sculptural, archaic texture. The stripped, ruin-like house was then repainted with chalk whiting. With the sweeping changes he realized, Valerio Olgiati completely reversed the original appearance of the building -while at the same time creating numerous references to its original core.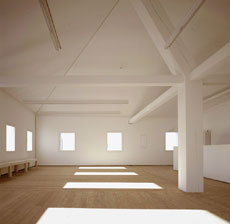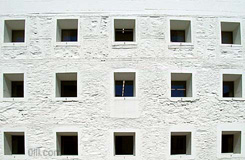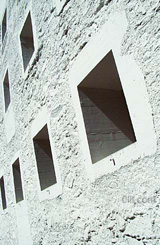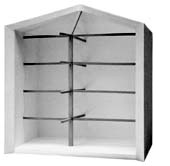 Valerio Olgiati was born in 1958 and studied architecture at the ETH Zuerich. Having lived and worked first in Zuerich and later in Los Angeles for some years, in 1996 he opened his own practice in Zurich and in 2005 in Chur.His major projects include the school in Paspels, the Yellow House in Flims, house K+N in Wollerau, the new University in Lucerne, a house in Sari d'Orcino Corsica, a small house in Rottenburg Germany, the project for Lake Cauma in Flims, a house for musician Bardill in Scharans and the museum for the Swiss National Parc in Zernez Switzerland.As a guest professor he taught at ETH Zuerich, at AA London and at Cornell University, NY. Since 2002 he has been a full professor at the Accademia di architettura Mendrisio at the Università della Svizzera italiana.
by another29 | 2007-10-25 16:33 | □Architecture