Damien Hirst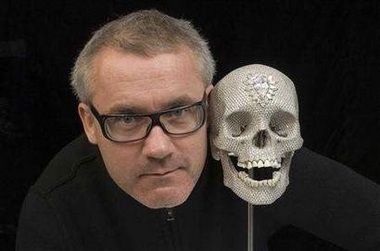 Damien Hirst
Artist
born 1965,Bristol
website:
www.damienhirst.com
Damien Hirst is an English artist and the most prominent of the group that has been dubbed "Young British Artists" (or YBAs).
He dominated the art scene in Britain during the 1990s and is internationally renowned.
Some Comfort Gained from the Acceptance of the Inherent Lies in Everything
1995
Steel, glass, cows and formaldehyde solution 12 tanks: 78-3/4 x 35-3/8 x 11-3/4 inches each (200x 90 x 30 cm)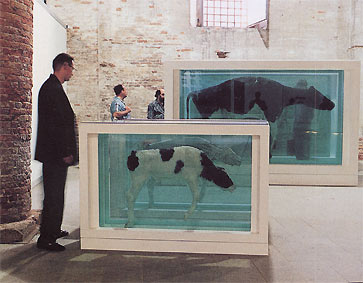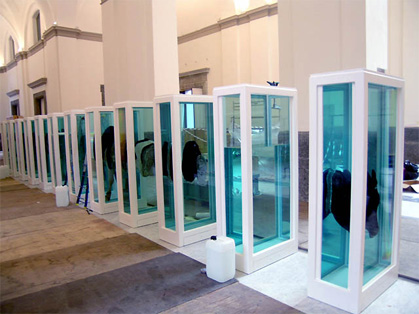 Hymn
2000 Painted bronze 240 x 108 x 48 inches (609.6 x 274.3 x 121.9 cm) /Photo;Exhibition at Gagosian Gallery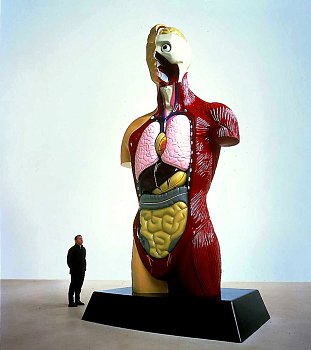 As one of the most recognized talents of the Young British Art movement, Hirst has risen to international prominence, startling the art world and the world at large with brilliantly conceived projects that are instantly identifiable as the work of a unique and provocative imagination. Often controversial, his most celebrated work has never shied away from the terrible beauty that lies in death and the inevitable decay contained in beauty.
Hirst's works continue to infuse everyday objects with a sense of the sublime and the absurd. The exhibition will include 16 new sculptures and a new series of paintings. It will feature Hymn, a 20-foot tall painted bronze anatomical model. This transformation of a childhood educational toy into a monumental sculpture is emblematic of Hirst's playful nature. A desire for order and a humanized science is embedded in a group of spectacular wunderkammers (glass cabinets of curiosities) that make visceral the themes of absence, longing, memory and loss. Also included in the exhibition are a number of works that further Hirst's meditations on the impermanence and fragility of life.
by another29 | 2007-06-07 01:53 | □Product