Jamie Reid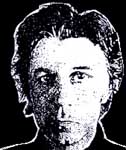 Jamie Reid
born 1947 Croydon Surrey,UK
website:
www.jamiereid.uk.net
Jamie Reid educated at John Ruskin Grammar School in Croydon, is a British artist and anarchist with connections to the Situationists. His work, featuring letters cut from newspaper headlines in the style of a ransom note came close to defining the image of punk rock, particularly in the UK. His best work is cover art of the Sex Pistols album.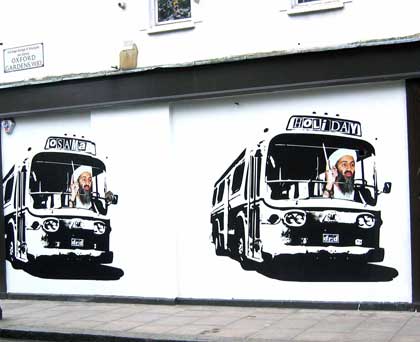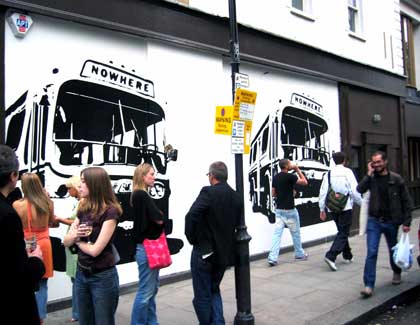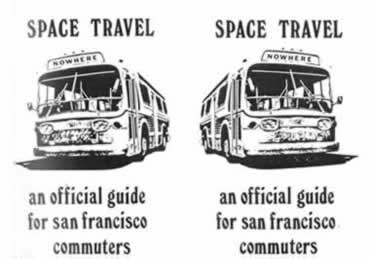 San Francisco Busses
1975
Produced by Suburban Press for Point Blank (San Franciscan situationist collective) this image was re-imported and put to good use by Jamie several years later for the Pretty Vacant promo poster. A negative version also appeared on the back cover of the single.
References : Sex Pistols
Artwork Lithograph Suburban press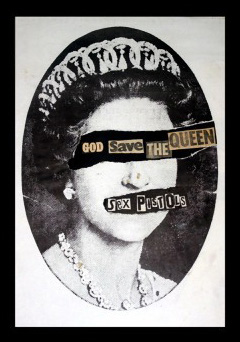 God Save The Queen
1977
Cover art of The Sex Pistols
The art works are juxtaposed within eighteen rooms to allow for similarities or versions of the same line of thought which the two countries shared during that era.
Although its curators claim that the exhibition does not centre on Punk music, it begins on a seminally musical note with the anti-royalist album cover artwork designed by Jamie Reid for the Sex Pistol's controversial 1977 debut God Save the Queen, which was famously released the year of the Silver Jubilee.
by another29 | 2007-05-28 11:57 | □Grafic