Michael Craig Martin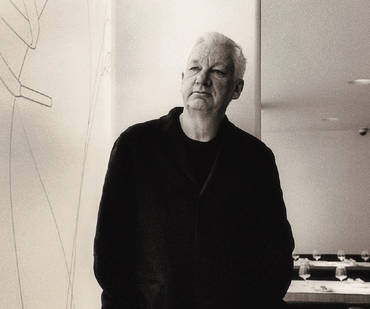 Michael Craig Martin
Artist
born 1941,Dublin,Ireland
website:
www.michaelcraig-martin.com
He grew up and was educated in the USA, studying Fine Art at Yale University. He moved to Britain on completion of his studies in 1966. In the early 1970s he exhibited the seminal piece Oak Tree. The work consists of a glass of water standing on a shelf attached to the gallery wall next to which is a text using a semiotic argument to explain why it is in fact an oak tree. Nevertheless, on one occasion when it was barred by US Customs officials from entering the country as vegetation, he was forced to explain it was really a glass of water.
KUB Fassade
2006 Kunsthaus Bregenz Fasard Exhibition---The installation is mounted in the space between the building and the etched glass shingles, so that basically only the path of the curved neon tubes will be visible. Controlled by a multistage, timestaggered program, the individual threads of the base of the light bulb "turn on" one after another until the entire light bulb is illuminated; then suddenly it goes dark and the sequence starts all over again. Thus, the glowing beacon of contemporary art at the edge of Lake Constance will emit a new, blinking light for the duration of the summer.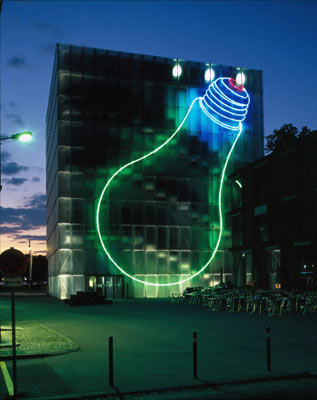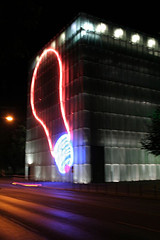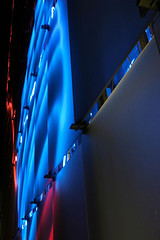 Deconstructing Piero [turquoise blue]
2004 A pair of screenprints Paper and image 63 x 88.5cm Edition of 40
Published by Alan Cristea, London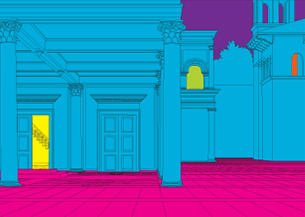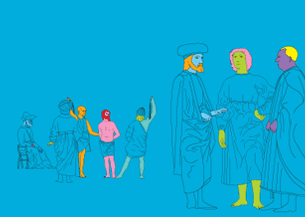 by another29 | 2007-05-29 02:44 | □Product